Driving school Stockholm
Körkortspecialisterna
If you live in a Stockholm and are looking for a driving school, you've come to the right place. We are a driving school in Stockholm that offers driving license training and intensive courses . Our traffic school is located in Huvudsta mall and you can easily get to us via the subway blue line. We offer driving lessons in all of Stockholm with the possibility of pick-up and drop-off in the areas around Solna. Regardless of whether you want to get a driver's license with a manual or automatic transmission, we are the right driving school for you.
A recommended company
We can proudly say that we are a recommended company fours years in a row. It is our satisfied students who drive us to become even better and work harder.
Education plan
The education plan we use is approved by the Swedish Transport Agency and our goal is to give each student an effective education. We at körkortspecialisterna have an ambition to become one of the major players in Stockholm in passenger car training. We work hard to ensure that our students receive a pedagogical education so that the knowledge remains throughout their lives. If you are looking for a traffic school in Stockholm, you have come to the right place.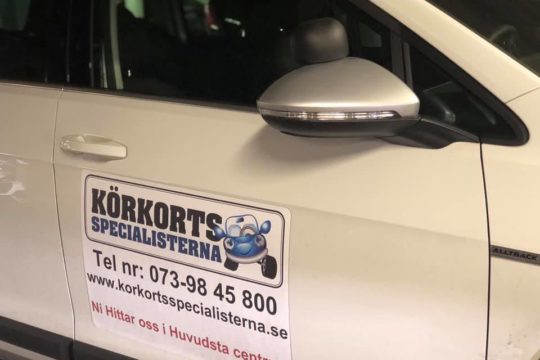 Our driving school in Stockholm
Our goal at Körkortspecialisterna is always to create great driving pleasure through effective learning. Our trained traffic teachers are educational and knowledgeable in the profession. We strive to provide the best experience for our students. The road to the swedish driver's license should be fun and safe.
Intensive driving license course
At our traffic school, you can get high-quality training with a clear eductional plan to get your swedish driver's license. All teachers have many years of experience in the profession as traffic instructors and it is easy and safe to be a student at our school. If you have prior knowledge in driving and want to get your driving license a little faster, you can read more about our intensive courses.
The training is adapted based on the student's needs, as each person is different. With us, you can choose everything from individual driving lessons to the large driving package . We always recommend our students to start with a trial lesson so that we better understand your prior knowledge. Click through to book a test lesson or to see all our packages and prices .
The road to a swedish driver's license
9 steps to getting a swedish driver's license
Application for driving license permit

To apply for a driver's license permit, you must be 16 years old, have a valid ID and have completed an eye examination. The application is made via the Swedish Transport Agency.

Introductory course

Many people who are going to get a swedish driver's license want the opportunity to practice driving privately.

To be able to drive privately, the supervisor and the student need to take an introductory course with us or another traffic school.

With us, the price is SEK 500 per person and will be held every other Monday at 5-8pm.

Driver training starts

Regardless of whether you practice driving privately or at a traffic school, it is recommended to combine driving with Theory right from the beginning.

If you practice driving privately, you can supplement your driving lessons by taking some driving lessons with a Traffic Instructor. We recommend that you start practice driving with a traffic instructor right from the start.

Continuous practice

As with most things in life, it takes practice to become a safe and secure driver. Practice and take driving lessons. Don't forget to combine driving with studying the theoretical parts.

Theory training

Learning about laws, traffic rules, risks and eco driving is a must in order to get a swedish driver's license. Now, in addition to books, there is good help to get by studying the theory on your computer or by downloading an app on your phone korkort.nu and this education is run by the Student Center (STR). If you want to facilitate your learning, you can take part in one of the theory packages we offer . E.g. Theory and tests online for SEK 1,100.

There you get everything you need to be able to succeed with the Theoretical part.

Also remember that you must have passed the Theoretical part before you can take the Driver's test.

Book risk 1

Risk training part 1 is mandatory. This training must be done via a traffic school (approved by the Swedish Transport Agency). We are approved by the Swedish Transport Agency and have Risk education at our traffic school.

The training deals with fatigue, drugs and other risky behaviors and takes about 3.5 hours.

Risk education 2

Part two of the compulsory risk training or slide as it is often referred to as, is practical training on a slippery road. There you can try driving on slippery surfaces and practically experience difficult situations that can arise in traffic in real life. This training takes about 4 hours and must be done before the Theoretical part. Important to keep that in mind.

Price SEK 2,300 weekdays and SEK 2,500 weekends/evenings.

Book theory test

When you've made it this far, it's time to book the Theory Test. It can be good to book the theory test for a while before you have completely finished your education. It facilitates the whole process.

Bookings are made via Trafikverket.se/korkort/. We are happy to help with the booking at our driving school.

Book a driving test

You have practised driving and built up your theoretical knowledge, now it is time to put all your knowledge to the last test.

The driving test is the practical part of the entire driving education. Important to remember is to book this test in time as well, because you only have 6 months to take the driving test after you have done the theory test.

Booking takes place via Trafikverket.se/korkort/.se We are happy to help with the booking on site.

BEST LUCK AND DRIVE SAFE!